Welcome to Courtmacsherry Rowing Club
The Courtmacsherry Coastal Rowing Club was founded in 1991. It is a member of the Irish Coastal Rowing Federation. To find out more about our club please click here
2016 - What's Happening This Year
Fund raising Coffee morning on 1st May 2016
This annual event will be held as normal at the Courtmacsherry Community Hall. As well as Coffee, Tea and Treats we will be selling club merchandise including T-Shirts , Hoodies and hats. Looking forward to seeing you all there.
Regatta Fixtures - South West Coast Yawl Rowing Association
The full list of this years Regatta Fixtures can now be found
here
on the SWCYRA site
The All Ireland Championships this year will be hosted by Donegal Bay Rowing Club and held at the Lakeside Activity Centre in Ballyshannon, Co Donegal on 12th-14th August 2016.
2015 - The Year just gone
Great Island Row 2015 in Aid of Marymount Hospice
Vet Ladies and Men took part in the Great Island Row in aid of Marymount Hospice, in memory of Mary Griffin.
Club Participate in the WRC Championships in Lima Peru

The Club, in the form of Brian Whelton and Denis O'Donovan, took part in the Mens doubles at the World Rowing Coastal Championships in Lima, Peru.
The County Finals on Saturday 8

th

August 2015
The Club hosted the rescheduled Cork Coastal Rowing County Finals on Saturday and once again the local community and family and friends of the club as well as club members themselves turned out in their droves to ensure the event was huge success.
Many, many thanks to all those who helped with the setup, launching, safety and transfer boats, Civil Defence, course laying, stewarding, catering, car parking and the numerous other jobs that go to organising this event. Also big thank you to the South West and CRA for their work before and during the event and the Courtmacsherry Lifeboat for overseeing proceedings.
On the water it was also a fantastic day for the club picking up a total of 4 Golds, 2 Silver and 4 Bronze. Golds went to the Senior Men, Pre Vet Men, Junior Ladies and Senior Mixed. Picking up Silver were the U14s and the Masters Mixed and Bronze went to the U12s , Vet Men , U21 Men and U16s. Congrats to all those who took part. You did your club proud. We have photos on our facebook page.
The Lusitania Centenary commemorations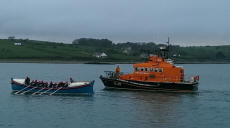 took place locally from 1st -7th May 2015. This included, on Sunday 3rd May at 11am, a re-enactment of the Courtmacsherry lifeboat call out. This re-enactment row was undertaken in a 1902 lifeboat 'RYDER' kindly loaned by the
Polperro Lifeboat Trust
. The rowing club have been involved in both helping with the training of the current lifeboat crew, and also many of the rowers on the day where volunteers from the rowing club.
For further details see
LusitaniaCentenary.com
2015 Results

ICRF All Ireland Championships:

Senior Men - Gold
Senior Mixed- Gold
Pre Vet Men - Gold

Junior Ladies - Gold
U12 - Silver
U14 - Silver
U16 - Bronze

SWCYRA Chapmionships:

Senior Mixed - Gold
Pre Vet Men - Gold
Junior Ladies - Gold
U14 - Gold
U12 - Silver
U16 - Silver
Junior Men - Silver
Senior Men - Bronze
U18 - Bronze
Vet Ladies - Bronze
Vet Men - Bronze

Cork County Championships:

Senior Men - Gold
Senior Mixed - Gold
Pre Vet Men - Gold
Junior Ladies - Gold
U14 - Silver
Master Mixed - Silver
Vet Men - Bronze
U21 - Bronze
U12 - Bronze
U16 - Bronze